Precision injection molding systems and molded parts for medical technology.
Clean room quality without compromises as basis for innovative, reliable medical devices.
Head start from more than 30 years of medical clean room production.
The requirements for our medical plastic systems and assemblies are becoming increasingly more complex. Trends to increasingly smaller molded parts in use at the patient or to subjects on the materials side such as glass replacement with COC & COP plastics require an elementary understanding about the interactions with the application environment but also clear quality orientation of the entire added value chain.
Clean room ISO 7, DIN EN ISO 14644-1
Risk management according to DIN EN ISO 14971
DIN EN ISO 13485
Highest standardized quality and hygiene standards based on validated processes and a certified QM system.
Highest requirements for process stability and media resistance – visible and functional parts for medical applications.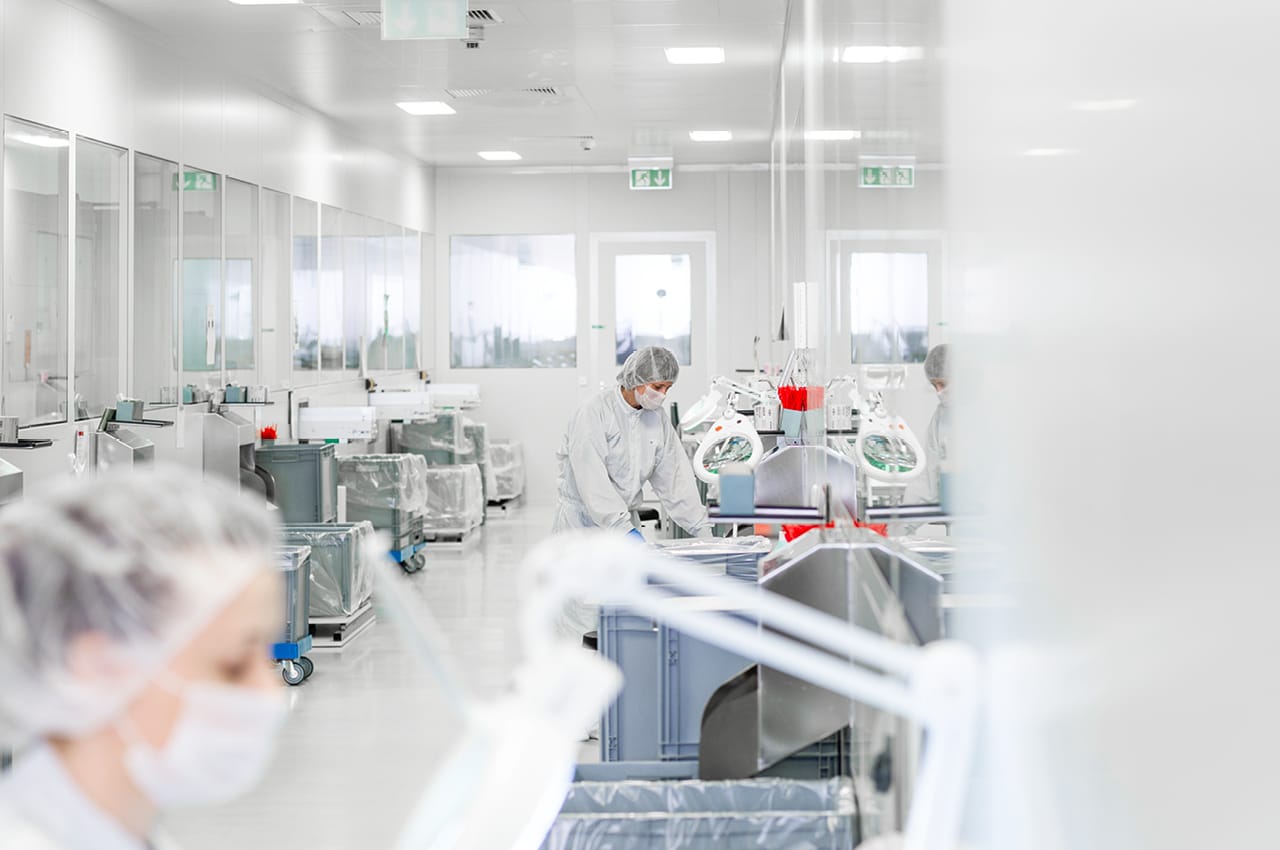 The focus is clearly on quality and reliability.
As a full service supplier for plastic processing, we bundle all competences from the development, correct product and tool design to the clean room production, assembly and packaging. In doing so, we are able to integrate the manufacture of molded parts of currently 0.007 g to 800 g and provide you with a specification-compliant plastic solution for every medical area of application We increase the reliability in the process by keeping the process chain as short and as automated as possible and integrate our customers in the development process from the very start. 100% camera inspections, particle monitoring, GMP documentation and other tactile and dimensional tests ensure optimum reproducibility and stability – also for volumes of several million parts per year.
Design
Prototyping
Toolmaking
Precision injection molding
Extrusion blow molding
Manual, semi-automated and completely automated assembly
Sterilization
Customer-specific packaging and logistics solutions
Some selected reference projects from the medical area.
Our primary packaging, filter case and micro molded parts prove themselves every day in the many different medical application cases of ophthalmology, dialysis, injection and numerous individual system solutions.
We see ourselves as efficient ideas solver for our customers. We develop a cost-effective and practical product and process concept jointly with you from your requirements.
Please contact us!
Process stability and uncompromising quality with system
Manufacturing competence in the clean room