Toolmaker Serkan Toprak in a groundbreaking exchange project.
Life experience and expertise – All in One. Our former apprentice is supporting our Turkish group partner for the establishment of its own toolmaking department.
Mühltal. Çerkezköy. Creglingen. In 2015, Wirthwein AG purchased 70 percent of the shares in Farel Plastik A. Ş. in Turkey. Serkan Toprak has been working in the Turkish company near Istanbul since November 2015 and is energetically supporting the restructuring of the toolmaking using his Turkish language skills.
Which activity are you currently doing at Farel?
I am currently working as team leader in toolmaking at Farel. We are a team of around ten persons. I coordinate the maintenance and repair orders of the injection molding tools. I am supporting the restructuring of the toolmaking and any type of preparation work at the same time. Training of the team and operation of the machining tools are also part of my daily work.
Which trade have you learned? Have you undergone further training afterwards?
I obtained my school leaving certificate in 2002 and then started my three years apprenticeship for toolmaker at the Wirthwein Medical company. I was retained as toolmaker by the Wirthwein Medical company after my apprenticeship. I have passed through various positions in toolmaking until I was able to support our department manager Gregor Grüdl as his substitute. I started further training for metal craftsman at IHK Darmstadt in 2012 and successfully completed this in January 2015.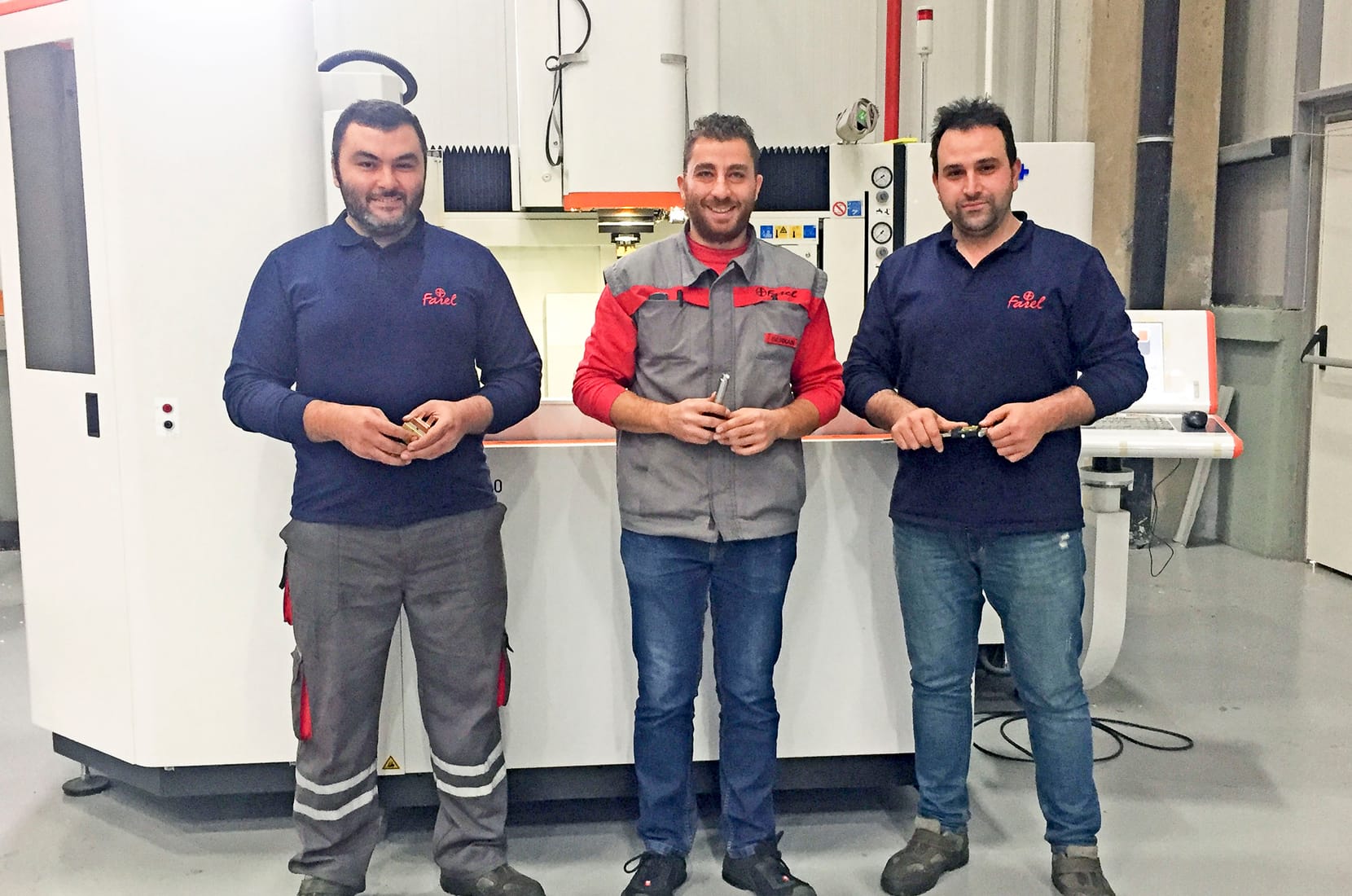 Toolmaking team colleagues at Farel from the left: toolmaker Bilal Bekçi, team leader Serkan Toprak and Engin Bebek, responsible specialist for CNC and EDM.
How did you get the idea to pursue this career path?
I wanted to learn something that we come into contact with every day and that always supports us in everyday life. Plastic is everywhere: whether in the car, airplane, home, in toys or electronic devices. I am also interested in technical things and previously informed myself well about the toolmaker occupation.
What do you particularly like about your occupation/activity?
Toolmaker is a very difficult and time-consuming occupation. The toolmaker must be able to deal with technical drawings and be very sensitive to feel the "thousandths of millimeters". But the best thing about my occupation is seeing how the tool that I built myself functions and contributes to the production.
The funniest thing about my occupation is that my family and my friends know hardly anything about it. Everyone always first thinks that I make hammers or pliers. I must explain a lot for the occupation and it is best to show the persons things from the home or in the car so that they can understand better and also have something tangible.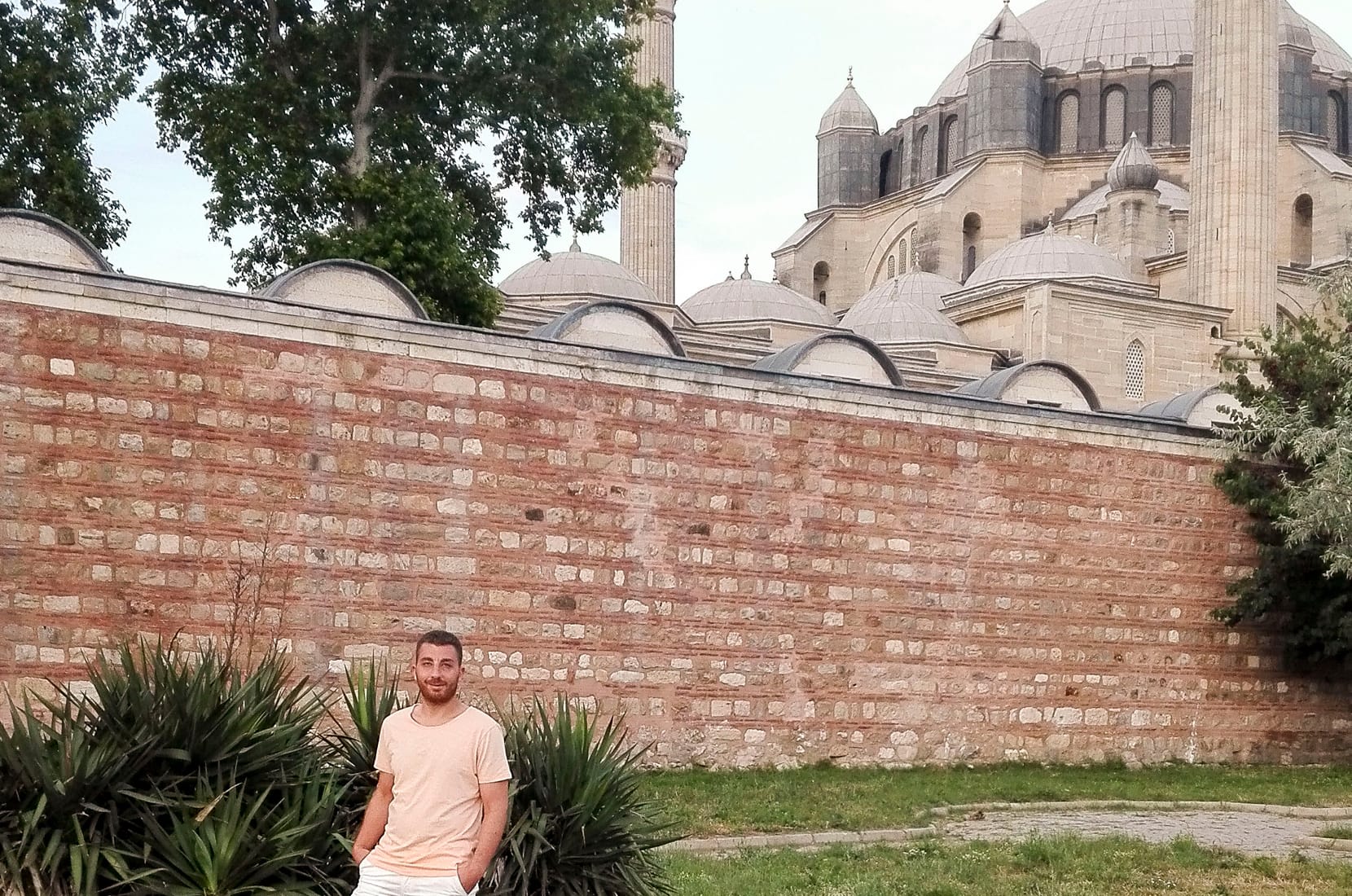 Serkan Toprak makes a lot of excursions at the weekend to explore the home country of his parents – and to relax from a stressful 50-60 hours week. Here in the picture during the visit to the antique "Selimiye Mosque" in Edirne.
Would you like to tell us something about your private life? For example, family, children, hobbies, interests?
I am 30 years old, born in Germany and I grew up with German and Turkish cultures. My family lives in Germany and we also have relatives in Turkey.
I have two children who live in Germany. It is very difficult for me to be here in Turkey without my children. I was previously only in Turkey for holidays, to visit relatives and enjoy time at the seaside. I like sport such as football, swimming and active types of sport such as paragliding. I make music and play the Saz (Turkish guitar) to relax and clear my head after stressful days.
How did it happen that you went to Turkey?
I was approached by Thomas Dörfler that Wirthwein AG plans to step into a company in Turkey and whether I could imagine working there to establish the toolmaking. After a few meetings with the director, Marcus Wirthwein, and teleconferencing with Turkey, it was then really serious.
How were you accepted by your new work colleagues?
I was very friendly welcomed; the workers in the toolmaking team even organized a welcome grill party for me; I liked that very much. The Turks are very hospitable in this respect. Of course, you get to know new people and small friendships could already be made.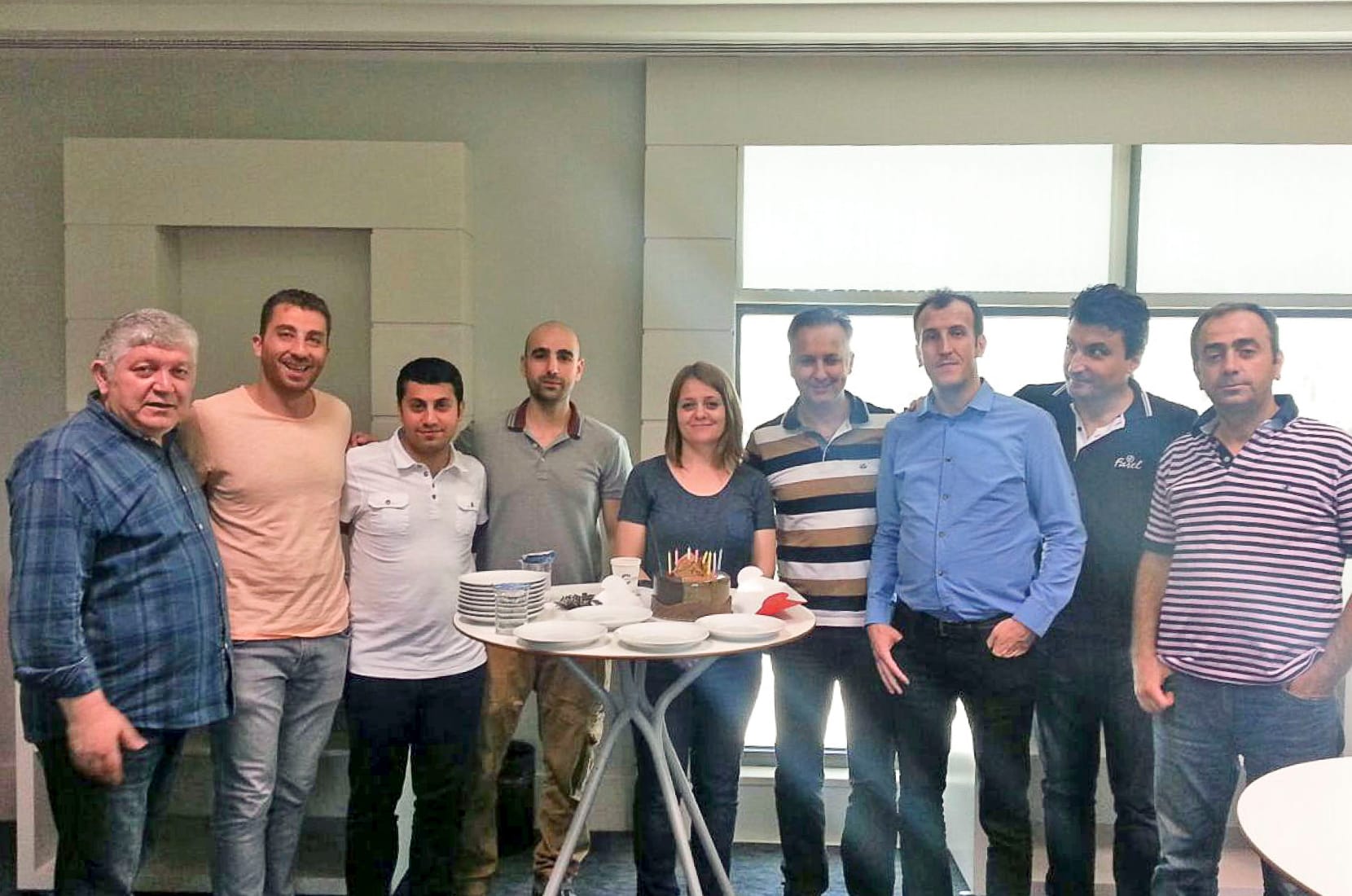 Team leader training with birthday surprise for the colleague, from the left: coach Ilhan Özdiller, Serkan Toprak - toolmaking team leader, Faruk Demirtas - design team leader, Onur Yilirim - paint shop team leader, Vildan Ilkyaz - personnel department management and birthday person, Senol Sayar - planning and sales team management, Kivanc Kilicel - IT management, Emre Yildirim – accounting and Cem Eyüpoğlu - purchasing management.
Could you describe your everyday life and the life in Turkey for us?
My everyday life is not so interesting as the working hours here in Turkey are very long. I work eleven hours every day that affects my leisure time.
After work, I usually meet with a few colleagues to go eating together and let the day end with "Cay" (Turkish black tea), Turkish coffee and with various card or board games in a convivial atmosphere. If there is still time, I try as much as possible to explore the surroundings. There are many nice places here, such as the peaceful harbor, where I can forget the stress.
Does Islam have effects on the life and/or the daily work routine? Are you a Muslim, Christian or something else? Does religion play any / no role in your life?
Islam has no great effect on the daily work routine. There are of course people who pray at certain times and usually go to the mosque on Fridays. That is completely normal for the people here just as it is normal in Germany to go to church on Sundays. I am a Muslim, but religion does not play a large role for myself. I do have a belief, but I do not go to the mosque or pray regularly. My opinion is that every person should believe in what is important for himself.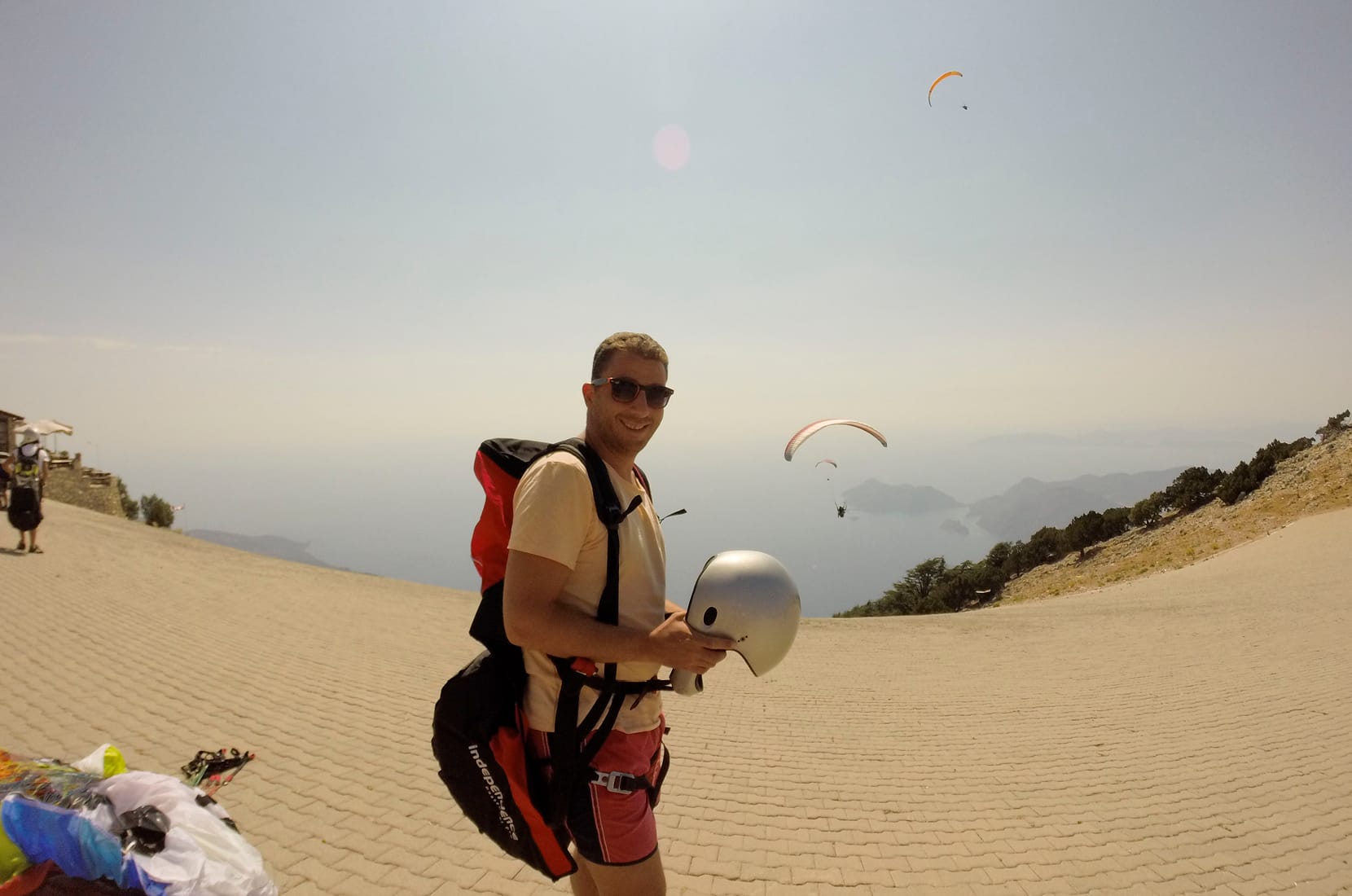 Serkan Toprak during paragliding in Fetish from the "BABADAĞ" mountain from a height of 1700 m.
What was it like for you at the beginning to live in Turkey? What is it like now? How long have you already been in Turkey? How long do you still expect to stay?
I have been in Turkey since November 2015. I have in fact settled down well, but it was difficult for me at the beginning to not see my children. Fortunately there are Skype and other media today that make it possible despite the long distance to stay in contact with each other. I have the advantage, of course, that I have relatives in Istanbul who I usually visit at the weekends.
I expect to still stay here until March 2017 which can of course be longer or in special cases (e.g. political changes, terror attacks etc.) also be shorter. One never knows what life brings.
Could you name and describe some differences between life in Germany and the life in Turkey?
Life in Germany seems so systematic. The people have more leisure time. In contrast, life in Turkey on the evenings on the streets is more hectic and more lively. Whether old or young, large or small – all are on the street and spend time together until late in the night. The shops are usually open until 22:00 and the cafés until late in the night. There are a lot of cafés and bars in Turkey. The "Çaygarten" (tea garden) is trendy and always packed with customers.
Which tips would you give to a German who is considering emigrating to Turkey?
If you are really considering emigrating to Turkey, you should inform yourself about things such as laws and obligations, types of social security and schools as well as child care in Turkey. It would be advisable to plan a longer trip to Turkey than only a holiday.
You should also be aware that the working world in Turkey is of course quite different than in Germany. There is more stress, less leisure time and less holidays.
Nevertheless, there are very beautiful areas to explore.
A final question about the current political discussion of the relationships between Germany and Turkey: Do you notice anything of the refugee crisis?
Yes, you notice something of the refugee crisis. There are many refugees here who wait at the edge of the road until a car stops at a red traffic light. The sad thing is that they send the small children to the cars to ask for money. It makes me very shocked to see all these poor people.
Do you also want to make history with us?
Arguments in favor of a career start at Wirthwein Medical.