Interview with apprentice Fabian Rapp
Exciting apprenticeship projects and diverse insights.
The apprentice Fabian Rapp is a future mold maker at Wirthwein Medical GmbH & Co. KG. He started his 4th year of apprenticeship in August 2018. The apprenticeship examination is due in the spring of 2019, and, if successful, the 20-year-old will have set another important milestone in his life to date. In the interview, Fabian talks about his exciting project work, which he successfully implemented in a team. With the support of his colleagues in mold making, he was allowed to implement a mold insert for the production of shopping cart tokens on his own responsibility.
How did the 'Shopping Cart Tokens' project come about?
Every apprentice works on a project during his apprenticeship. My trainer and I thought about which project would suit me and my interests. We knew that we needed a new give-away and a mold insert to present the apprenticeship for training events. Together we arrived at the idea of manufacturing mold inserts for a mold for the production of shopping cart tokens.
What are mold inserts?
Mold inserts are built into every injection mold; they define the contour of the plastic parts. You can say they are the negative of the end product. Simply put, it's like baking a cake: It always depends on the tin into which you fill dough to take either a ring cake or an Easter lamp or muffin out of the oven. In my project, injection molding machines produce plastic tokens for supermarket carts with my mold inserts.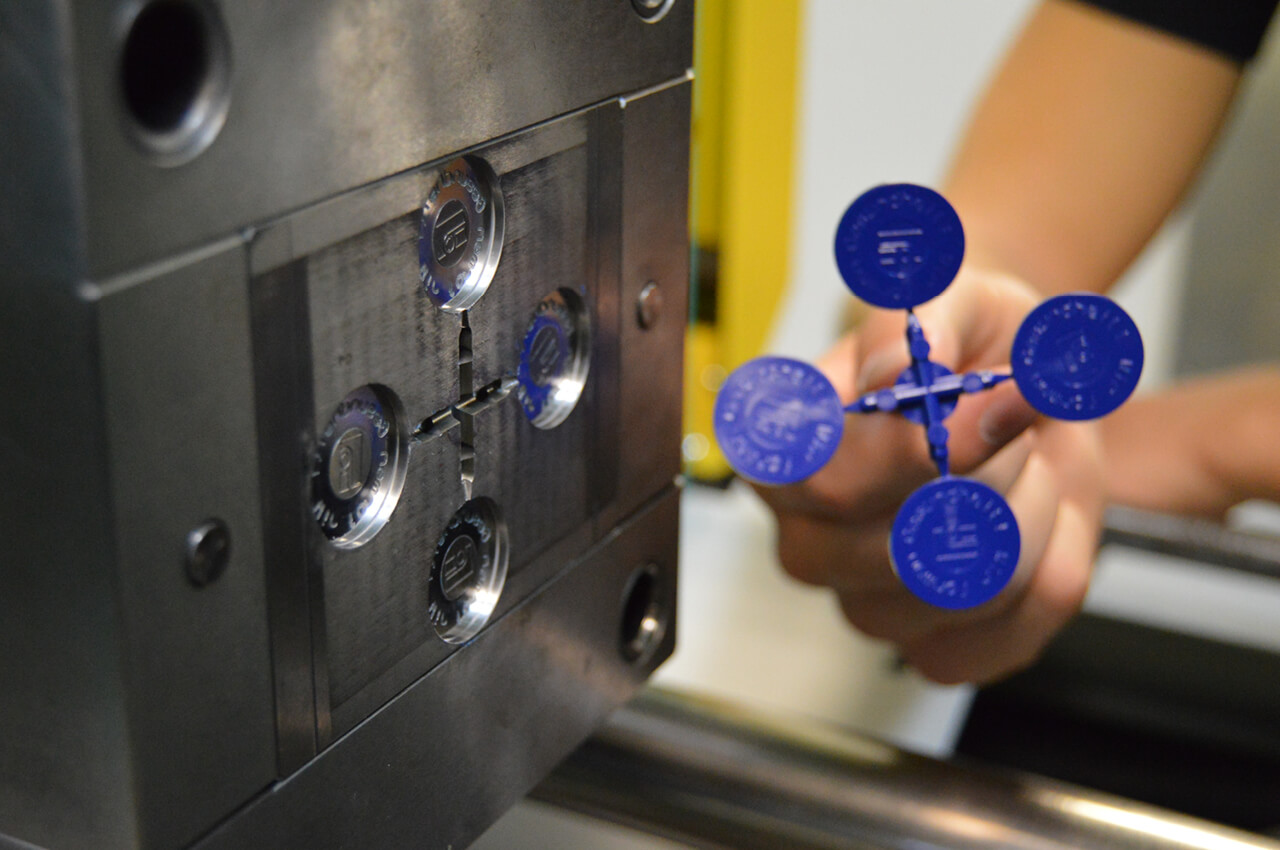 Fabian Rapp used various metalworking processes to produce a mold insert for the manufacture of shopping cart tokens. The picture shows a so-called multiple mold; four shopping cart tokens are produced per production step.
What was your task?
On the basis of an existing basic mold into which my tool inserts were installed later, I sketched and designed the mold inserts myself. I was also allowed to devise the design of the shopping cart tokens. Afterwards, it was my task to manufacture the inserts using various metalworking processes. A period of eight weeks was set aside for it.
How did you proceed?
First, I developed a plan together with my trainer. Based on my ideas and experiences, I created a hand-drawn sketch and the design. Afterwards, the machining of the mold inserts was on the agenda. Thereupon the first tokens were produced by injection molding. In technical jargon, this project step is referred to as 'sampling'. I measured the first shopping cart tokens together with an apprentice colleague. The first practical test we did at a nearby supermarket was really exciting. There we discovered here that minor haptic improvements were still necessary, which we went about immediately. Very quickly the optimal mold was designed. The end result is a perfect product of which we are admittedly very proud.
What was particularly challenging?
The whole project had to be clearly thought through to avoid waste of material or major difficulties in the production process, for example. All aspects of an injection mold had to be considered, e.g. the type of gate or the ejector system used to remove the parts from the mold. I increased my knowledge and my craftsmanship in the course of the project.
How did the teamwork go?
My apprentice colleagues and above all my trainer were always there to support me. The teamwork went really well!
Can you describe your feelings when you held the first finished product in your hand?
I was proud. I became familiar with many individual steps during my apprenticeship. The opportunity to plan and implement an entire project right from the start was a real sense of achievement.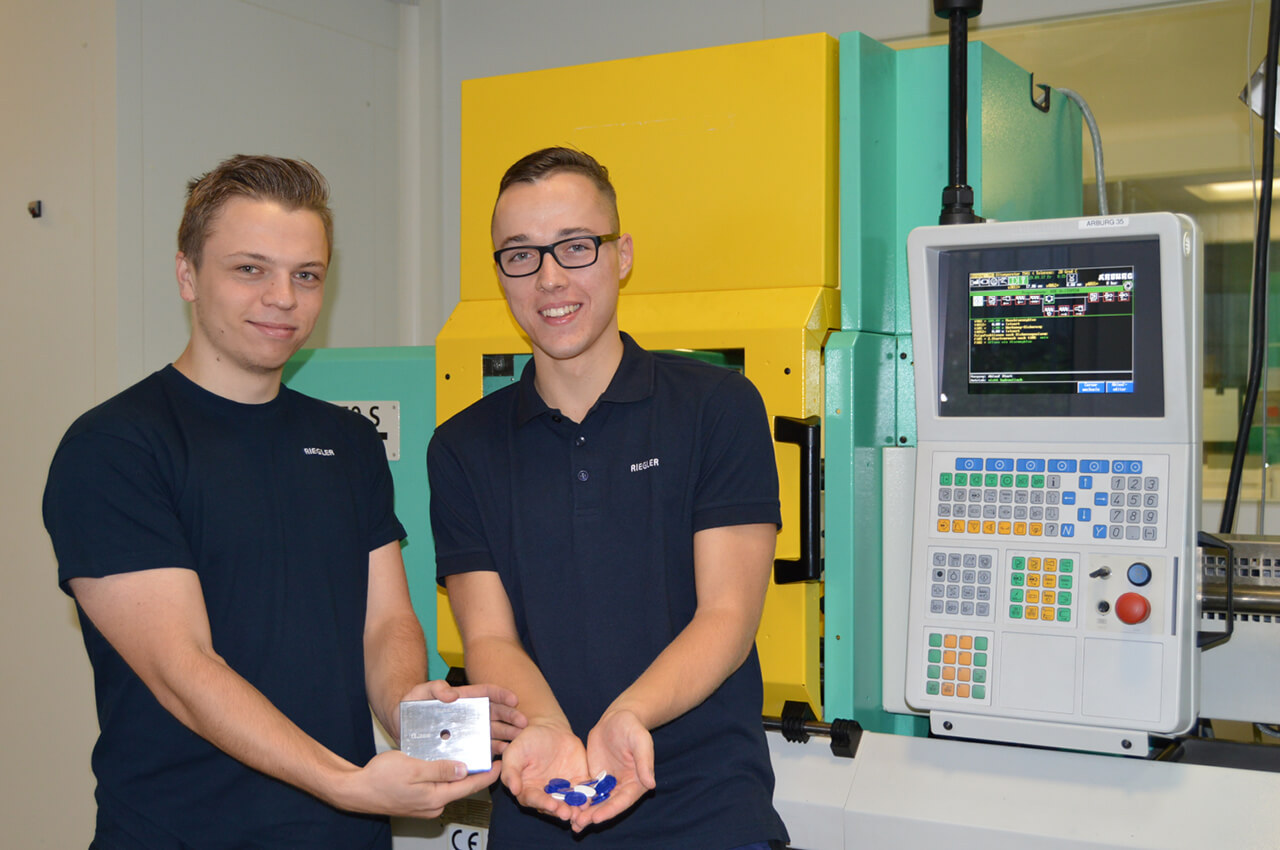 Przemyslaw Szwugier and Fabian Rapp proudly hold the mold insert and the shopping cart tokens in their hands.
Do you also want to make history with us?
Arguments in favor of a career start at Wirthwein Medical.