Reasons in favor of Wirthwein Medical.
There are many good reasons to work for an international, strong growth specialist, in a market with a promising future. There are many good reasons why it is particularly worthwhile to make a career in a family company that allows short decision paths, supports interdepartmental work in the team and has clearly put its employees in the center since its founding. There are many good reasons in favor of Wirthwein Medical.
We bring plastics to life!

With our passion for processing plastics under cleanroom conditions, we make a valuable contribution to health as a leading system supplier. Wirthwein Medical develops and manufactures customer-specific plastic components and system products using state-of-the-art technologies and processes. The products and systems manufactured by Wirthwein Medical are used worldwide in the fields of diagnostics, medical technology and pharmaceuticals.

Together with our customers for the health of all people!
First the person, then the machine
Our employees, their know-how and commitment are the most important components of the success of our family business that has grown over generations. They are clearly at the center of everything, supported by stable, automated processes. Not the other way round.
The challenges of our customers are the driving force for the growth of our company. We know and understand the needs of our customers and actively initiate optimizations. We create the perfect basis for our joint success with this.
Pacesetter for innovation
We proceed boldly and develop innovative, practical problem solutions with and for our customers. We succeed in this by incorporating our interdepartmental strengths and experiences in the team, scrutinizing proven and new technologies and never being satisfied with the first that comes along.
Quality without compromises
We do not manufacture any standard but genuine precision parts that must function in numerous sensitive and life-critical application fields. Each of our components is a reliable promise of quality that we are happy to be measured by at any time.
We rely on sustainable, loyal partnerships with our customers, suppliers and service providers. We understand this as meaning honest, respectful communication as equals, the conviction to be able to achieve more jointly and a standardized understanding of quality and competitiveness.
We would like to retain our employees long-term in the company and grow jointly with our successes. Therefore we work together and create secure perspectives in a future-proof industry.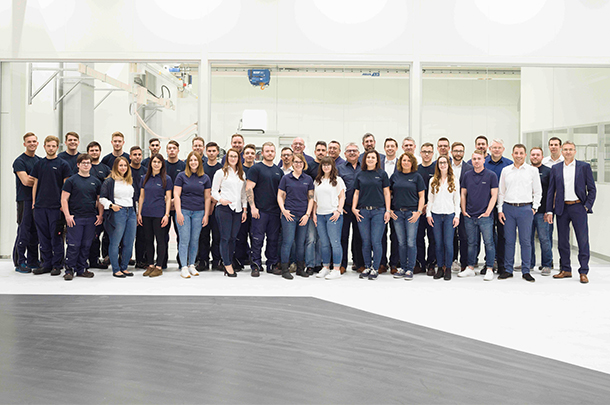 Code of Conduct and Compliance
It is the basis for our collaboration with customers, employees and suppliers. Values that have been firmly established in our family-run enterprise from the day it was founded.
Join us on our growth course.
Our management in the family company.